Circumcision and Enhancement 
Circumcision is a surgical process whereby the foreskin of the penis has been surgically removed. Many men get circumcised due to many reasons, but the main one is religious based. Most Jewish, Christians, and Muslims are circumcised for religious reasons. Some men are circumcised for traditional reasons.
Men who are not circumcised are not of the aforementioned religions, or have not been circumcised because of tradition or other reasons such as being born prematurely. It is too risky to circumcise a new born that is premature due to infection risk. Typically the circumcision is done 8 days after child birth because maximal clotting and healing capacity is reached during this time frame.
If one wishes to have a penile shaft girth enlargement, and he is not circumcised, it is highly recommended to have a circumcision prior to the male enhancement procedure. The reason why it is very important to first get circumcised is due to the fact that the filler that is inserted into the penile shaft may enter into the foreskin, and result in collagen formation and thus a thickened foreskin.
The thickened foreskin may cause a malfunction, not allowing the foreskin to freely flow over the glans.
The images below will show successful penile shaft enlargements with patients who were circumcised and uncircumcised, as well as uncircumcised patients who were not successful.
SUCCESSFUL CIRCUMCISED PATIENT
Image 15, 16 & 17 demonstrate a patient with the foreskin in its natural state, and also with it pulled back.
Then image 17 shows after the circumcision, with a very little foreskin remaining. Image 18 shows how close the circumcision line is to the glans.
This is desirable for penile shaft girth enlargement treatment.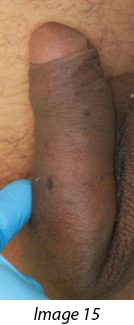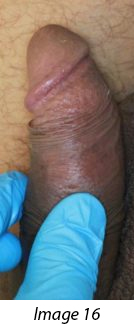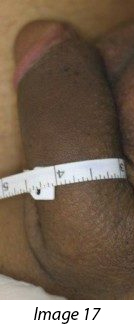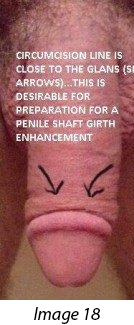 Image 1a & 1b demonstrate an uncircumcised patient with and without the foreskin pulled back. You will notice something strange, a very large bump out from under the skin. This was a piece of plastic surgically placed to increase vaginal (clitoral) stimulation. I added these photos because they were more interesting, and these pieces of plastic were surgically implanted several years prior to coming to our clinic.
Image 2 will show many changes. In the first image the patient was circumcised. Secondly, the patient had a penile shaft girth enhancement, and lastly, the plastic pieces under the skin were removed.
Successful Uncircumcised Patient
Unsuccessful Uncircumcised Patients
Image 10 & 11 show the normal uncircumcised male with normal foreskin function.
Image 12 shows a penile shaft girth enhancement, but the problem is not evident.
Image 13 shows that the foreskin cannot slide over the glans because it has been thickened by the filler material (collagen develop there and thickened the foreskin preventing motion)
If one chooses to have a penile shaft girth enlargement without getting a circumcision first, the patient must be prepared, if needed, to have the circumcision done afterwards. If the patient never wants to be circumcised, then it would be too risky to have a penile shaft girth enlargement.
Those who are uncircumcised can have their glans and scrotal areas enlarged, these treatments do not interfere with the foreskin.
If one wishes to have the flaccid insert placed, for the purpose of acquiring maximal flaccid length, one must be circumcised, there is no option here. The insert will not be stable enough if the foreskin is present and may shift up into the foreskin resulting in a possible breach in the skin, thus necessitating removal.
Circumcision Corrective Surgery
Those patients that have been circumcised may still need to be re-circumcised.
The reasons for this are many. The primary reason to get re-circumcised is to remove the excess foreskin that should have been removed with the original circumcision.
Many surgeons are very conservative with their circumcision technique and leave a lot of foreskin. This is not favorable for having a penile shaft girth enlargement.
This extra foreskin has an increased risk of swelling and ultimately becoming 'bulgy' or proportionately larger than the penile shaft below it. It is recommended that those who have had a circumcision but still have a large amount of foreskin, remaining consider having a re-circumcision to remove the excess foreskin.
This will allow for a much more pleasing cosmetic result and appearance.
The image below demonstrates when a patient has excess foreskin and how it can expand after a penile shaft girth treatment.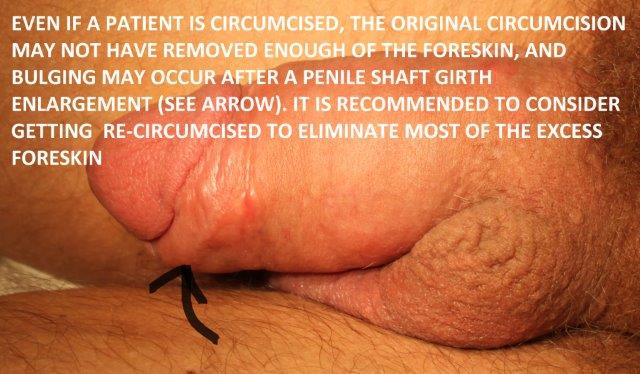 Adult circumcision is common and not complicated. Most men think that it is very painful, and it need not be.
When patients are provided with lidocaine cream, which is placed on twice daily, they feel minimal to no discomfort at all.
Dr Loria recommends that you contact your local Urologist to have the circumcision performed, your insurance should cover the procedure in full.
When scheduling your circumcision please tell the Urologist you want a very little amount of the foreskin (1/2 inch) to remain under the glans (head of the penis).
If you are not covered under insurance, the Urologist will provide a cost for the circumcision, which should be reasonable.
Circumcision Questions and Answers