Buried penis is a rare condition in which the shaft of the penis is hidden or restricted.  The causes include abnormal skin growth, obesity, and fat deposits in the groin area. A penis enlargement procedure can sometimes provide a solution because it helps release the penis from surrounding tissues. With assistance from an experienced medical professional, men who suffer from buried penis can experience improved function in everyday life as well as a greater level of confidence overall.
Causes and Complications of Buried Penis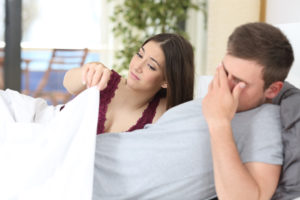 Buried penis is sometimes a congenital condition. It can also occur in association with aging, fluid buildup in the groin area, a faulty circumcision or obesity. Whatever the cause, the symptoms include a penis that is partially or obscured by tissue and surrounding skin. People suffering from a
buried penis
may experience physical and psychological issues. In babies and children, the excess skin traps urine. Other challenges for males with this condition include:
Difficulty maintaining a steady stream when urinating.
Difficulty retracting skin from over the glans or head of the penis.
Infections and irritation caused by dampness and sweat in an enclosed space.
Children can suffer feelings of insecurity and inadequacy, and they can become stressed out over fear that classmates will discover their condition.
Insecurities can also cause adults to have difficulty maintaining romantic relationships.
Men may need to sit while urinating, which can have a negative impact on self-esteem.
Treatment Options for Buried Penis
There are various treatments used to create a healthier and more natural profile for men with buried penis. The best treatment depends largely on the cause of the condition. A penile enlargement procedure is an option to free the penis from its obscure position and remove scarred or damaged tissue. Another solution is to remove excess fluids and fat. Applying skin grafts to the shaft of the penis so that it can expand normally is sometimes necessary in cases of congenital or severe buried penis.
Benefits of Cosmetic Surgery
Male cosmetic surgery is a very effective treatment for buried penis because of the types of benefits it provides. Surgical correction of the condition can improve appearance and function, which helps to improve overall quality of life and health. Patients who have had surgery for treatment of buried penis typically experience such outcomes as improved self-esteem and increased confidence during sexual intimacy. Genital cosmetic surgery for children with buried penis relieves fears of being ridiculed or questioned. Compressed tissues within the penile shaft can deteriorate; but when prompt surgical treatment is performed, such tissue deterioration is prevented, allowing normal sexual functions to continue.
Take Action: Contact Loria Medical
For more than 20 years, Dr. Victor Loria has performed cosmetic and dermatologic surgery and procedures. His method for enhancement of the penis is revolutionary, and it can be an effective solution for the enlargement of a buried penis after surgical correction. Buried penis is a condition that needs treatment, for reasons cited above and more. You can expect to go forward with greater confidence after penis enlargement and other needed treatments at
Loria Medical
. Contact the office of Dr. Loria today at 877-DR-LORIA (877-375-6742).