Sex is supposed to be fun. However, life can sometimes catch up with you and at times, pleasure can take a backseat. Heck, sex can even begin to seem more like…a chore. Sometimes your sex life needs a little extra boost to make it as fun as it used to be, if not better. So, don't look at your next romp in bed as something to do in between getting your oil changed and going to the dentist. Let's take a look at some ways to make sex fun again!
Switch Up Positions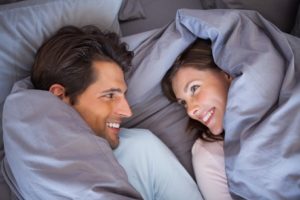 Think of when sex with your partner was at its hottest. Was it at the beginning of the relationship? This is when things are new, fun, and exciting. However, what did you do in bed then that is much different than what you did in all your other relationships…and now? The answer is probably nothing.
We have our favorite positions. These tried-and-true go-to's were no more exciting with our other sexual partners than they are now. The only difference is that each new partner feels newer, even if the position isn't.
Now, that doesn't mean you want to change that person, just try to make the same old sex new again by changing positions. Get a Kama Sutra book and discuss with your partner which positions look enticing. Then, have at it! Not only will you both feel a fresh sense of pleasure, you will both feel closer to one another for sharing such an intimate experience.
Penile Shaft Girth Enlargements
Is there anything sexier than pleasuring your partner and watching their face as they get lost in the moment? You can now up the passion ante with non-invasive treatments such as Platinum Penile Shaft Girth Enlargements.
Many penile enlargements are invasive and require surgery. However, there are also viable options for increasing the circumference of your penis. You can opt for the Platinum Technique, which is an effective and natural procedure offered by Loria Medical. Dr. Victor Loria provides this Penile Shaft Girth Enlargement technique that is minimally invasive and provides excellent results.
The Platinum Technique involves inserting a collagen layering activation filler just under the penile skin. In doing so, your body will naturally create more collagen, causing your girth (and enjoyment) to grow.
Role Play
Who doesn't love a good costume party? Sometimes the best ways to make sex fun again is to be someone else. Get into a character and roll with it. Who knows, you might have your partner yelling out sexy requests in the sack that you never heard before?!
The same goes for your partner. Live out your wildest fantasies by being truthful with your loved one. One of the most foolproof ways to make sex fun again is to be honest and let loose!
Toys
Christmas can come everyday in the bedroom with some new toys. Anything from a penis pump to vibrating eggs to scrotal rings to nipple clamps can make a world of difference in the sex lives of those looking for ways to make sex fun again.
Toys are fun because for one, they prolong the act and nothing brings a couple closer together than foreplay. The anticipation is sometimes better than the act…and a lot more fun. Plus, toys require less work on your behalf. You can get your partner worked up without even breaking a sweat. Once you have a toy working them up, bring in the closer and get your sweat on!