Men tend to make a direct connection between their penis and the ability to
arouse and sexually satisfy a woman
. For men who consider themselves of below-average penis size, the good news is that arousing a woman and enjoying a great sex are activities that need not rely in whole or in part on how well-endowed a man is. Arousal is a good precursor to enjoying sexual pleasure. What arouses women is typically completely different from what sexually stirs men, which is the first and most important thing for men to understand. If you are interested in ensuring that the woman you are intimate with is fully aroused, check out the following tips.
Turn on the Charm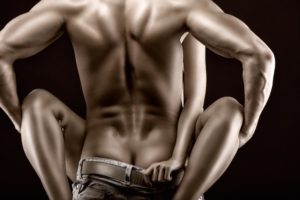 A lot of what arouses a woman is in the mental processes, which certainly means looks are not everything. When you are charming and manage to evoke laughter, it relaxes a woman and makes her feel more open. It definitely helps if you give attention to hygiene before turning on the charm. A man is most charming when he is being himself and builds chemistry with friendly, flirtatious teasing.
Be Present
It turns a woman on to feel that she is truly the object of a man's interest. When you are with a woman, be sure you are in the moment and your thoughts aren't elsewhere. It's especially important that you aren't filled with feelings of self-doubt. A woman can be turned on simply by discerning that she is truly the focus of a confident man's attention. If you are really serious about arousing a woman, go all out to fulfill the common fantasy women have of a romantic night with dinner by candlelight, etc.
Spend Time on Foreplay
The issue of foreplay is one that sharply divides the typical sexual needs of men and women. For women, foreplay is usually the best part of having sex, the reason being it takes a woman longer to be sexually aroused. It's just rude for sex to end before a woman has even gotten properly warmed up. Foreplay is for exploring one another's bodies. This is when a man should give full attention to the woman's erogenous zones.
Ask for Guidance
Sensitive areas on the body that cause sexual arousal when touched are the erogenous zones, and they are highly individual. A woman's erogenous zones may include the clitoris, vagina, mouth, neck, breasts, ears, cervix, and nipples. Since everyone is different, you can help to ensure that you are arousing a woman by asking her to guide you to the erogenous zones that her body responds to best. Any woman appreciates a man knowing that her pleasure is increased by touching areas besides just the breasts and vagina.
When You Want to Go the Extra Mile
For some men, perceptions about the size of his penis interfere with his confidence during sex. It's perfectly understandable for a man to want to have penis enhancement as a way of providing a woman with more sexual satisfaction during intimacy. Thanks to an innovative procedure by renowned Dr. Victor Loria, that has been successfully performed more than 5,000 times, you can have a non-surgical, minimally invasive penis enlargement procedure. If you are a man determined to feel more confident about bringing a woman's sexual arousal to a more satisfying conclusion, call
Loria Medical
today at 877-DR-LORIA (877-375-6742).