Our sexual lives affect our overall happiness, our health, our marriages, and our relationships. You could enrich your sex life simply by studying sex. With some of the following statistics on sex, you may at least be entertained.
Premarital Sex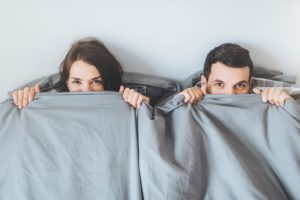 Engaging in sex before marriage is nothing new, but it has become more common. Of the women who turned 15 in the ten years ending in 1963, 48% had premarital sex by age 20. In the ten-year period ending 2003, that same statistic rose to 74%.
Oral Sex
In a 2010 study by the National Survey of Sexual Health and Behavior (NSSHB), 64% of men from age 18 thru 59 reported that woman gave them oral sex within the previous year. Among women in the same age range and time period, 58% reported that a man gave them oral sex.
Number of Partners
In a study done from 2006 to 2008, men ages 24 through 44 reported having 6.1 sexual partners, on average, in their lifetime. Among women in the same age range, the average was 3.6 sexual partners. Similar research was done from 2006 to 2010, and 21.6% of the men from age 15 to 44 reported having more than 15 partners. In the same age range, 9% of the women, on average, had 16 or more partners.
Sex in Marriage
Sexual activity increases over time, in relationships in which a man and woman mature together. Married couples who have been married for a long time report increased sexual activity, aside from the honeymoon phase.
Masturbation
In a major 2010 study on masturbation, it was found that more than 60% of men ages 18 to 59 masturbated within the last month. The group that most frequently reported recent masturbation were ages 25 thru 29. Those who reported the activity the least were 70 years old and older. Meanwhile, 37.8% of women from 18 to 59 reported masturbating in the past 30 days. The same age ranges as the men reported the activity the most and least—ages 25 to 29 and 70 and over, respectively.
Orgasms
During sex, men have an orgasm 85.1% of the time, no matter what their sexual orientation is. Heterosexual women experience an orgasm 61.6% of the time, and lesbian women report having an orgasm 74.7% of the time. Most women have an orgasm as a direct result of clitoral stimulation, though adequate stimulation of the clitoris to reach a climax typically requires 10 to 20 minutes.
Coregasms
About 10% of both men and women experience orgasms induced by exercise. The phenomenon is called a "coregasm," since it occurs most commonly during abdominal exercises.
Average Penis Length
According to findings of a recent study involving more than 15,000 men, 5.16 inches is the average length of an erect penis. A flaccid penis is 3.6 inches, on average. A penis is 4.6 inches in girth, on average, when erect and 3.7 inches in girth when flaccid.
Male Enhancement
More than half of all men want a larger penis, according to research. Dr. Victor Loria offers a penis enhancement treatment that works, and it involves benefits such as minimal downtime, no surgery, no stitches, and no general anesthesia. Easy financing is available. Dr. Loria has performed this revolutionary procedure more than 5,000 times. Contact Loria Medical today at 877-DR-LORIA (877-375-6742) to learn more.