A curved penis of 10 degrees or less is natural and comfortable during sex, but an abnormal bend, known as Peyronie's disease, causes painful erections. Peyronie's disease occurs as a result of fibrous scar tissue underneath the skin of the penis, which causes a painful, significant bend. Most commonly, this serious condition affects men ages 40 to 60 and older.
Risk Factors, Causes, and Incidents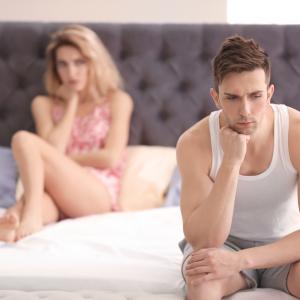 The medical community hasn't yet determined the cause of the fibrous scar tissue that develops under the skin of the penis in Peyronie's disease. There are certain risk factors and known causes, however, including the following:
During intercourse, the penis can become fractured in an injury. A fractured penis can lead to Peyronie's disease.
Radiation or surgery in treatment of prostate cancer can cause the malady.
Men ages 40 to 60 are most at risk for developing an abnormally curved penis.
Dupuytren's contracture is cord-like thickening on the palm of one or both hands, and it's somewhat common among Caucasian men over the age of 50. A small number of men who suffer from Dupuytren's contracture also develop Peyronie's disease.
Newborn males sometimes have what appears to be Peyronie's disease, but the curvature of the penis in these instances is a symptom of an abnormality called hypospadias.
Symptoms of Peyronie's Disease
The hardening of the tissue under the skin of the penis along the shaft that causes Peyronie's disease is often noticed by a man or his physician. The symptoms of the disorder all occur during erection and may include:
A significant bend in the penis, usually starting in the area where scar tissue hardening can be felt
Erection problems
Narrowing of the penis
Pain
Shortening of the penis
Pain during sexual intercourse
Problems with penetration during sex
Curvature of the penis associated with Peyronie's disease sometimes worsens gradually, but it eventually stabilizes. Within a year or two, pain experienced during erections typically improves, but the curvature and presence of scar tissue remains.
Complications
Peyronie's disease causes various complications, including the following:
Inability to have sexual intercourse
Erectile dysfunction, which is difficulty achieving or maintaining an erection
Fathering a child becomes more difficult, since having intercourse becomes difficult or impossible, due to associated pain
The man becomes anxious or stressed about the appearance of his penis or about his ability to have sex
A man's sexual relationship becomes stressed
Treatment for Peyronie's Disease
After the onset of some of the symptoms of Peyronie's disease, some or all of them may improve or reach a point whether they no longer worsen. Common treatments for the disease include the following, though the treatments often provide little to no relief:
Take a medication called Potaba
Have corticosteroid injections into the fibrous band of tissue
Injection of Verapamil, which is a medication used to treat high blood pressure
Vitamin E
Shock wave lithotripsy
Radiation therapy
Surgery may be recommended, if other treatments fail. Because surgery can cause impotence, it is considered a viable option only if intercourse is already impossible. In some cases, a penile prosthesis is thought to be the best treatment option.
When to Call your Doctor
Contact your doctor or health care provider if erections are painful, you have symptoms of Peyronie's disease, or you experience sharp penis pain during intercourse and your penis swells and bruises after sex. Dr. Victor Loria is a well-respected cosmetic surgeon who offers Peyronie's Disease Treatment. Contact Dr. Loria today at 877-DR-LORIA (877-375-6742).