Contrary to widespread belief, the size of a man's penis does not determine the quality of sex, particularly when it comes to certain positions or maneuvers. It should be noted that any man can choose to be masterful at foreplay, increasing a woman's level of enjoyment during sex. Plus, every penis size has certain sex positions that provide maximum sexual pleasure. Any man would do well to become familiar with the positions that work best during sex, for his penis type.
Large Penis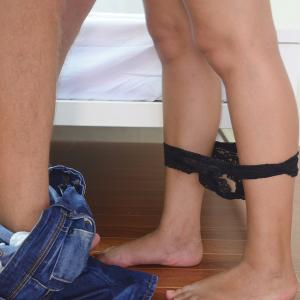 Foreplay is especially important when a man has a large penis. Vaginas need to be warmed up so that they can expand without tearing. Lubricant may be important, especially if a woman has a small vagina. The best position for sex, when a man has a large penis, is for the woman to be on top, so that she can control the angle and depth of the penis. She should lean forward and place her hands on both sides of the man's head, as though doing pushups.
Average Penis
The beauty of the average-sized penis is that the size is favorable to comfortably having enjoyable sex in a wide range of positions. With an average penis size, a man can study the Kamasutra and plan for many tantalizing positions during sex. A simple doggy style is really all that's needed for maximum enjoyment, however, since the man's hands are free to explore as the woman is on hands and knees and he enters from behind.
Small Penis
The man who feels compelled to get creative, due to a smaller-than-average penis, can easily provide more pleasure to a woman than a well-endowed man who doesn't bother with thoughtful foreplay. The sexual positions best for a man with a small penis are those that allow the deepest penetration. The missionary position doesn't lack in pleasure-giving potential, just because it simply involves the man being on top. The head of the penis or the man's pubic bone can stimulate the woman's clitoris as their bodies move. A twist on this sex position is to prop pillows under the woman's hips and then she bends her knees with her feet flat or places her legs up to rest on the man's chest and shoulders.
Curved Penis
A naturally curved penis with the angle of no more than 10 degrees can make for very pleasurable sex for the woman and the man. If the bend is upward, the missionary style can be perfect, since the penis provides constant pressure against the G-spot in the vagina, which is usually the upper wall about two inches from the vaginal opening. If the curve is downward, doggy style tends to work best. For a sideways bend, the scissors position is usually best. The woman lies on her back and then the man straddles her and then interlocks with her as he lays on his side. Just as men have different types of penises, women have different vaginas. These suggested positions won't work best for everyone. The real secret to is to explore and communicate. If things aren't working, make small adjustments or try a different position altogether. The best sex position for a man's penis size also depends on which one provides the most pleasure for the woman. If a man desires to increase the girth of his penis, to give greater pleasure to his partner, he has the option of a revolutionary non-surgical, non-invasive penis enlargement procedure from renowned cosmetic surgeon Dr. Victor Loria. Learn more by calling Loria Medical at 877-DR-LORIA (877-375-6742).