It is not unusual for men to be concerned about the size of their penis, but very few men have a condition diagnosed by the medical community as a micropenis. A micropenis is a very small penis with a standard penile length (SPL) of 2.8 inches or less. About .06% of men have this condition. Cosmetic male enhancement can provide permanent alleviation of the symptoms of micropenis.
What is Micropenis?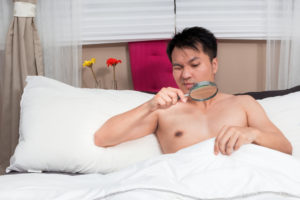 An average sized newborn male penis is usually between 1.1 inches and 1.6 inches, when it is gently stretched for measurement. A newborn with a penis measuring less than 0.75 inches long is classified as having micropenis. The condition is diagnosed through an accurate measurement, and it is usually identified early in life. Measuring along the dorsal aspect of the penis is the most accurate way to diagnose a micropenis. If the penis length is at 2.5 inches or greater standard deviation from the average length, then a clinical diagnosis of a micropenis can be made.
Causes of Micropenis
Genetic or hormonal abnormalities during fetal development are usually the major causes of a micropenis. When a fetus is eight weeks old the penis begins to develop, and, by week 12, penis growth begins. Male sex hormones cause the penis to continue growing to normal length during the second and third trimesters of pregnancy. Penis growth is stunted by factors that interfere with hormone production and hormonal interaction.
External factors may also cause micropenis development. Recent studies indicate that exposure to pesticides could affect the genes and directly cause the penis malformation.
Complications Caused by Micropenis
Men with micropenis can experience physiological problems, such as the inability to urinate properly. In adulthood males can have difficulty engaging in sexual intercourse. Common psychological problems associated with micropenis include depression and low self-esteem.
Treatments for Micropenis
When micropenis is diagnosed during infancy, testosterone treatments can be administered that can stimulate the growth of the penis during childhood, and a second step in the therapy is resumed during adolescence, for maximum effectiveness. Although the hormonal treatment makes a significant difference, it rarely results in the penis growing fully to average size.
For adults, Dr. Victor Loria recommends stretching devices that can help the penile shaft to be stretched to at least 4.5 inches up to 5.5 inches in length, when erect. Dr Loria is currently developing an internal penile stretching medical implant device which will immediately increase the erect length of the penis by 1-2 inches in most cases. Also, additional penile stretching may be possible a year after the placement of the first implant device by removing the first implant and then subsequently placing a longer implant in to continue stretching the penis even more.
Penile Girth Enlargement treatment at Loria Medical can help to increase the circumference of a penis. The flaccid length of the penis can be increased by the permanent filler or by the medical implant device as well.
The filler treatment performed by Dr. Loria is minimally invasive and doesn't require surgery of any kind. These treatments usually increase flaccid length by ½ to 1 inch per permanent filler treatment.
Several major surgeries are used in the treatment of micropenis. Dr. Loria finds many of these procedures to be unnecessarily invasive and may cause further potential complications that fail to yield satisfactory results. It's in every patient's best interest to consult an experienced medical professional for any potential treatment options they wish to explore. There are many scams targeting individuals with penile issues, so it's important to do your due diligence and research before making a decision.
Contact Loria Medical for Treatment of Micropenis
Dr. Victor Loria is a specialist in penis enlargement, including men with micropenis. Make an appointment at Loria Medical today at 877-375-6742 for help improving symptoms of micropenis.