All stereotypes should be avoided, including those related to penis size. Men have no control over the physique they are born with, but there are penis types they might seek to achieve with male enhancement. A man should always keep in mind, though, that vaginas aren't all the same, either. Size matters, but in what way it matters depends partly upon the woman's vagina and personal preferences and partly on the position or technique used during sex. The following are five types of penises and how or why sex can be enjoyed with each.
1. Up-Curved, Like a Banana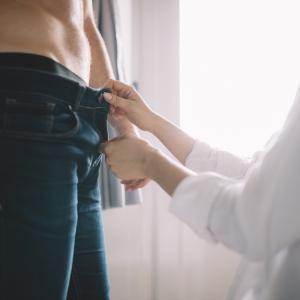 A slight upward curve is natural for many men who have long penises. If the angle of the curve is greater than 10 degrees, however, the cause could be scar tissue resulting from an injury. This is referred to as Peyronie's disease, and it can cause extreme pain for men during sex. Surgery or medication may be required, to correct the anomaly.
A penis with normal curvature, like a banana, can cause a woman to experience heightened enjoyment of sex, since the G-spot is along the upper wall of the vagina. The continual stimulation is satisfying enough to make up for any lack of technique on the man's part.
2. Thick, Like a Burrito
The good thing about a penis that is thick enough to seriously intimidate women is that it creates a satisfying combination of pressure of stimulation in all areas of a woman's vagina. The potential sticking point is that the man, in this case, needs to understand that vaginas require warming up and careful stretching. Otherwise, a thick, burrito-like penis can cause painful tearing.
3. Undersized, Like a Gherkin
A category of men who can usually benefit from penis enhancement are those with a penis undersized in girth and length, sometimes referred to as a micropenis. Sex can still be satisfying for a woman, and it's possible for her to experience orgasms, though oral sex and manual stimulation may be needed, as well. The important focus is to find whichever position provides the greatest penetration.
4. Average, Like a Cucumber
A penis that is average is length and girth and has uniform girth along the shaft, shaped like a cucumber, is ideal for most women. When a man has this type of penis, women can comfortably enjoy intercourse. A great benefit is that just about every sexual position will provide pleasure, as well.
5. Above-Average Size, Like a Salami
Men with a penis that is longer and has greater girth than the average man, known as the well-endowed, must take special care not to hurt women during intercourse. It can be very painful when a women's cervix is thrust against during sex. The larger size, however, can provide added stimulation, since the member can rub against the clitoris during sex. Men with a penis large like an Italian sausage should give women guiding control of depth, angle, and pace of intercourse.
A Non-Surgical Solution for Male Enlargement
Every man can do the best he has with the penis he was born with, but each can also make choices about whether to have a male enlargement procedure. Dr. Victor Loria is a renowned cosmetic surgeon who offers a revolutionary penis enlargement procedure. The procedure is minimally invasive and non-surgical. This means minimal downtime, since there is no general anesthesia and neither scalpels or stitches are used. Contact Dr. Loria today at Loria Medical by calling 877-375-6742 and learn more about his revolutionary penis enlargement procedure, which he has performed more than 5,000 times.